NEN 4400-1 certification renewed
This week A1 Werkplan had an SNA audit for the NEN 4400-1 certification. We are proud to say that the audit went well and that we can renew our NEN certificate.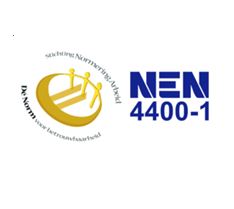 The SNA quality mark is the quality mark for the temporary employment sector and contractors of work and has been developed to limit the risks of hirers of labor and clients of work. Based on current legislation, these parties run the risk of being held liable for obligations resulting from work that have not been fulfilled by the lender or (sub) contractor. Companies with the SNA quality mark are periodically checked for their obligations from work, which limits the risk for the hirer and outsourcer of work.
The companies with an SNA quality mark are assessed on their obligations from work, namely:
-The identification of the company;
-The declaration and payment of payroll taxes and turnover tax owed (in the Netherlands);
-Wage payment not in violation of the Minimum Wage and Minimum Holiday Allowance Act;
- Performing an identity check and checking whether you are entitled to work in the Netherlands;
-The prevention of risks of liability and fines resulting from borrowing and lending or outsourcing work.
https://www.a1werkplan.nl/en/certificering
2022-11-22 - a1werkplan